Harrogate news
If you cannot find what you require email info@harrogateguide.co.uk with details and we will endeavor to find the nearest one and forward it to you. Use of this Site constitutes acceptance of our Terms and Conditions of Use by yourself or any third parties.
Business: Harrogate News
Phone: 01423 206910
Description:
See below the latest news for Harrogate & Districts with local news and information in your area. Find out what's happening in Harrogate at the Harrogate Guide covering Harrogate, Boroughbridge, Knaresborough, Masham, Pateley Bridge & Ripon 
I have gathered the News below from the Internet and from press agencies that send us news updates daily. Should you find any errors, anything I might have missed or anything I can include please email info@harrogateguide.co.uk
.......................................................................................................................
Your April digest of news from Harrogate Borough CouncilThis is the April edition of Residents' NewsThe weather has been kind to us in recent weeks, so we hope you've been able to take advantage of the easing of the lockdown rules on 12 April.It has been good to see our town centres and shopping districts busier than we've been used to while we had to stay at home.The next change in the restrictions is due to happen next month if coronavirus infection rates continue to be kept under control.In this edition, you'll find out about:How we can help you restart your fitness regime, post-lockdownWhy we don't like pizza and food boxes in your recyclingHow we're investing £500,000 to support the district's tech businesses________________________________________Coronavirus: latest guidanceSince lockdown was eased on 12 April, we've moved a step closer a degree of normality with the reopening of non-essential retailers, personal care businesses and those in the hospitality trade.We mustn't forget that restrictions are still in place in England.  That means:You can only socialise indoors with people you live with or who are in your support bubbleUp to six people or two households can meet outsideYou should work from home if you can and minimise travelIf you have symptoms get a test and stay at homeThe government website has more information about what is now permitted.The next change in the lockdown restrictions is due to take place on 17 May, before the next edition of this newsletter will be published.There should be a further easing of the limits on seeing our friends and family.Most legal restrictions on meeting other people outdoors will be lifted, although gatherings of over 30 people will remain illegal.Indoors, the 'rule-of-six' or two households will apply and the government is expected to confirm new social distancing guidelines.In the meantime, please continue to follow the rules that apply and stay safe.________________________________________Come and join Team BrimhamsNow that coronavirus restrictions have eased, three of our leisure centres are open again.You can swim at the Hydro in Harrogate and at Nidderdale leisure centre and we've welcomed back members to our Brimhams fitness centres in Harrogate, Ripon and Pateley Bridge.We are working to open Ripon Spa Baths next month.  Starbeck Baths will welcome back swimmers as soon as social distancing rules and staff resources allow.As reported in our edition of Residents' News on 12 April, we are in contact with specialist contractors about the replacement of broken equipment at Knaresborough pool.The reopening of our facilities means we're now recruiting staff to work in our sport and leisure services.We have various roles available including lifeguards, a duty manager, fitness instructors and a receptionist.There's more information in the jobs section of our website.________________________________________Brimhams kick startIf lockdown and the coronavirus pandemic has affected your fitness regime, we can help.Our new 'Kick Start' programme has been created by our experts to help you get your fitness back on track and to improve your health and wellbeing generally.It's perfect if you've not been active for a longer than usual period.Kick Start is free to Brimhams fitness members and includes:new, tailored, exercise plans with daily 'moves targets'group exercise classes with easy progression for beginners and returning membersnew 'body composition tools' to see your results and discuss with our trainersIf you're interested in getting your fitness back on track, visit our website.________________________________________Meanwhile, let us help you get Fit4LifeFit4Life is our free 12-week weight management programme which aims to promote healthy eating and physical activity to achieve positive and sustainable weight loss.There's more information about the eligibility criteria on our website but you need to be aged 18 or over and have a Body Mass Index (BMI) of 30 or above*.You'll also need to live, work or be registered with a GP in the Harrogate district to join the programme and you must commit to all 12 weeks.Fit4Life is run by our qualified health and exercise experts to ensure the course can be tailored to you.  Despite ongoing Covid-19 restrictions, the programme is still running.*If you are from an ethnic minority or you have hypertension, diabetes, cardiac or respiratory problems, your BMI can be 25 or above.________________________________________Shop local, by bike and support the district's businessesNow that non-essential retailers are open again, there's never been a better time to venture back to your local high street.It goes without saying that businesses across the district need our support more than ever.You'll notice that social distancing measures are in place in all the district's shopping centres to ensure you – and other customers – are safe.We've also launched a new campaign called 'Buy Local, by Bike'.It includes a map of cycle routes in and around Knaresborough and Harrogate which you can easily access on your smartphone.There are nine routes to choose from to help you travel to your local shops, to get to work, school or college or to simply enjoy some outdoor exercise.So, for the first time in Residents' News, we can say 'on your bike' for all the right reasons.________________________________________Bank holiday bin changesThere's a bank holiday on Monday.  Hurrah!This means we're making some changes to refuse, recycling and garden waste collections.They will take place a day later than usual next week (beginning 3 May).The same will apply at the end of the month for the bank holiday on 31 May, but we'll remind you about that closer to the time.Don't forget you can check your bin collection day using the In My Area section of our website.By the way, it's not too late to subscribe to our garden waste collection service even though the season is underway.Paying for us to take away your garden waste saves you from a pesky trip to the tip.________________________________________Why we don't do pizza boxesWe often get asked to clarify our position on pizza boxes.  Here's the answer.Once a cardboard box has been used to get a yummy pizza or another takeaway meal to your house, we can't accept it in your recycling.That's because it becomes contaminated with fat, oil and or/grease from the food, and it can't be recycled with other 'clean' cardboard.We know you like to do your bit for the environment and recycle as much as you can, but used pizza boxes, or any cardboard box that's had food in it, must go in your refuse bin/sack please and not your recycling bag.Some pizza boxes have recycling marks on them.  This usually means that they have been made from recycled materials, not that they are recyclable once used.If you're ever unsure about the bin/box/bag/sack your waste should go in, please see our website.________________________________________£500,000 investment in new digital incubatorWork will begin next month to create a new digital business 'incubator' in Harrogate.We're completely refurbishing part of Springfield House, on the convention centre site, at a cost of £500,000.The investment will create flexible working spaces to suit individual or small businesses in the tech, digital and media industries.There will also be meeting and event space and a business support hub for workshops and one to one advice and training for new and growing businesses.At the same time the existing toilets and kitchens will be replaced.We announced plans for the refurbishment back in 2019 and had hoped the work would have started last year.However, the project was put on hold when Harrogate Convention Centre was transformed into an NHS Nightingale Hospital to support the national response to the pandemic.A company from York won the competitive tender to carry out the work.You can find out more about the incubator on the project website.________________________________________Misleading reporting in the mediaWe don't like taking issue with journalists as we believe a free press is good thing.However, we will always challenge misleading or inaccurate reporting.A local community news website has published misleading content in recent days.It ran articles on its channels suggesting we have "spent £632,000 on staff pay out packages over the last two years" and that "the figure has prompted a review".This simply isn't true.The £632,000 largely relates to the costs associated with compulsory and voluntary redundancy over a two-year period and includes the cost of things such as pension contributions.To imply we've given cash to everyone who has left the organisation is ridiculous.Our governing document – called the constitution – allows for senior managers to be given delegated powers to approve settlement agreements in certain situations when someone leaves.Our auditors recommended this approach should be reviewed to ensure it's still appropriate, and we are happy to do that.The same media outlet – and a regional newspaper - also published misleading content relating to the cost of external expertise brought in to support a case for change to local government in North Yorkshire.The UK government wants to reorganise the way council services are structured here.We worked jointly with the other six district and borough councils to develop a proposal which would see the county being split in an 'east and west' model of two unitary authorities.This was an extensive piece of work which required professional input, detailed analysis and research along with public consultation and modelling.The £330,000 cost was shared by all seven district and borough councils.  Our contribution was £40,000.The reporting of this issue by the community website, and the newspaper, and their use of photography, gave the impression that we footed the entire bill.  This is not the case.We are pleased to be able to correct both these issues in this newsletter.________________________________________Scam alert: don't let criminals get your cashThere are two scams to warn you about this month.The first relates to the government's national coronavirus support scheme.   We've had reports from some businesses that messages – supposedly from us – have been sent.While it's not unusual for us to use email, we will never ask you to part with any personal information.We've also heard that criminals are calling – or sending text messages – about council tax refunds.The caller, or the text message, encourages the council taxpayer to part with their bank account details or security information so that the "refund can be processed".Our advice is to hang up and/or delete the message.If for some reason you ever overpay your council tax, we will issue a new bill.  Refunds are paid into bank accounts automatically if you pay via direct debit.Don't let scammers get hold of your hard-earned cash.If you're ever unsure about the authenticity of a phone call or text message that claims to be from us, please speak to our customer services team on 01423 500600.For more information about how to protect yourself from scams please visit the Action Fraud website.________________________________________Police, Fire and Crime Commissioner electionAn election will take place on Thursday (6 May) to select a new Police, Fire and Crime Commissioner for North Yorkshire and York.There are four candidates:Philip Allott from Knaresborough is standing as The Conservative Party candidateJames Barker from York is standing as the Liberal Democrats candidateAlison Hume from York is standing as the Labour and Co-operative Party candidateKeith Tordoff from Harrogate is standing as an Independent candidate________________________________________Harrogate Bilton and Nidd Gorge by-electionA by-election will take place on Thursday (6 May) to select a county councillor in the Harrogate Bilton and Nidd Gorge ward.There are six candidates:Harvey Alexander, IndependentJohn Hall, Yorkshire PartyAndrew Kempston-Parkes, Liberal DemocratTyler Reeton, Labour PartyMatt Scott, Conservative PartyArnold Warneken, The Green PartyUnfortunately, it's too late to register to vote to take part in either election if you haven't already.________________________________________Come and join Team Harrogate!We think Harrogate Borough Council is a fantastic place to work, but then we're slightly biased!As well as amazing colleagues, we offer competitive salaries and a range of other benefits.We're always looking for new people to join the team and regularly advertise the roles available at the council. Right now, we're recruiting:A duty manager to join our Brimhams fitness teamA receptionist within our culture, tourism and sport serviceA fitness instructor at Ripon leisure centreAn attendant at Turkish Baths HarrogateAn exhibition and collections curatorLifeguardsPlease visit our jobs page for all our latest opportunities.We look forward to receiving your application.………………………………………………………………………………………………….Captain Tom 100 – Your 100 Challenge Your Way - Friday 30 April - Monday 3 May 2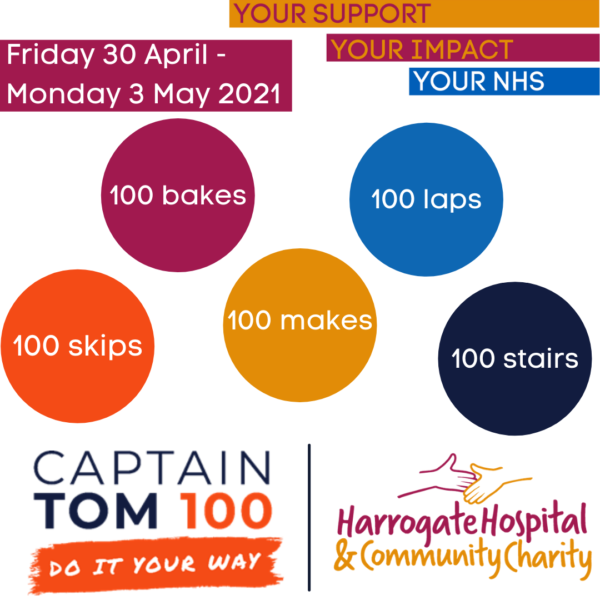 HHCC are excited to celebrate the life of Captain Sir Tom Moore.  You may have seen or heard about the campaign that has been established to celebrate the life of Captain Sir Tom?  This is an event that anyone can get involved with to celebrate his generosity, hope and sense of fun.
Captain Sir Tom would have been celebrating his 101st birthday on Friday 30 April.  It is also the first year anniversary of the amazing celebrations that followed his phenomenal fundraising walk that raised an incredible £39.8 million for the NHS in 2020.
Your fundraising will make life changing differences to help enhance treatment and facilities for all departments and services at Harrogate and District NHS Foundation Trust (HDFT).
Plan Your Challenge
Your 100 Challenge for HHCC could be:
100 laps of your chosen circuit by walking, running, cycling or swimming
100 bakes – create cookies, buns, brownies and suggest a £1 donation for your creations
100 acts of kindness – Spread hope and joy offering shopping, cooking or odd jobs for family, friends and neighbours in return for sponsorship
100 skips, star jumps, squats or hula hoops – challenge your friends to a non-stop activity and get sponsored for your efforts
100 makes – get creative with making friendship bracelets, knitting items, planting plants, taking photos and sell your creations for a donation
You can undertake your 100 challenge indoors or outdoors
We have provided you with some suggestions, but feel free to create your own!
Fundraise for HHCC
Once you have decided upon your 100 challenge you can ask your friends and family to sponsor you.  They can donate to our #CaptainTom100 fundraising page here: Captain Tom 100 – Your 100 Challenge Your Way
Rules
Adhere to social distancing and government guidelines
Encourage your friends and family to donate
Have FUN!
Don't forget we are here for any questions or support you may need.  You can reach the HHCC Team by emailing hdft.hhcc@nhs.net or phoning 01423 557408
.......................................................................................................................
.....................................................................................................................
North Yorkshire's library service has launched an app to help customers to access library resources anytime, anywhere.
The app, which is being launched during Libraries Week (5 to 10 October), brings together all the County Council's online library services, as well as offering library members new facilities. Using the app, members can view their account, search the library catalogue and reserve and renew books, as well as downloading e-books and e-audio books and accessing free online reference resources.  County Councillor Greg White, the Executive Member for Libraries, said: "Nowadays, many customers expect services to be available easily on their phone. This app aims to meet those expectations.  "People will be able to see all our resources in one place, in the palm of their hand and available when they're on the move. "You'll be able to find a local library, check its opening hours and check whether a book they're looking for is there. In addition, if you see a book elsewhere that you're interested in, you can scan its barcode and find out whether your local library has it.
"We think the app will provide a quick, easy way for people to navigate and access services. I think people will be surprised by just how much is available."  Other functions include the option to set language preferences and to link library accounts, so customers could link the accounts of other family members, enabling them to manage and renew loans for their children, for example. During the Covid-19 lockdown period, North Yorkshire's libraries saw about an extra 3,000 people joining the service to access the free digital resources.  Although libraries have reopened for borrowing, the app can help customers who are isolating or do not feel ready to return to their branch. To download the app, search for North Yorkshire libraries in the App Store for iOS and in Google Play for Android devices. Anyone who is not a library member can join online for free at www.northyorks.gov.uk/how-join-library
........................................................................................................................
Celebrities join forces to support a lifesaving campaign  - Yorkshire celebrities have joined forces to encourage people to learn cardiopulmonary resuscitation (CPR) in the build-up to Restart a Heart Day 2020.
Yorkshire Ambulance Service has recruited the support of Olympic athlete Jessica Ennis-Hill, ITV Calendar's Christine Talbot and Jon Mitchell, BBC Look North's Peter Levy and Paul Hudson, Emmerdale's Nick Miles, Amy Walsh and Sue Cookson, performer Billy Pearce and comedian Paul Chuckle to help improve cardiac arrest survival rates. They feature in a video along with Yorkshire Ambulance Service staff which provides simple instructions about how to perform hands-only CPR and how life-savers can reduce any potential risks during the COVID-19 pandemic. It can be viewed at https://www.youtube.com/watch?v=4o9Vf0GpmJo .
Jon Thordarson, Community Resuscitation Manager for Yorkshire Ambulance Service, said: "We are concerned that COVID-19 has increased people's fear of intervening when someone has a cardiac arrest but the risks can be reduced by performing hands-only CPR and not giving rescue breaths. A cloth or towel can also be gently placed over the patient's mouth and nose; this will not obstruct or block their airway and will not affect their chances of survival. "Cardiac arrests have not stopped happening during the current pandemic; in fact, early data shows that cases have been increasing, particularly in the home. This proves that learning CPR is more important than ever, especially when you consider that you could be saving the life of a loved one."
Over the last six years on Restart a Heart Day, Yorkshire Ambulance Service has provided free CPR training to more than 151,000 youngsters at 82% of the secondary schools across Yorkshire. Due to COVID-19, the usual face-to-face sessions have been cancelled and all training will be conducted online on Friday 16 October this year. Currently in the UK, less than one in ten (8.6%) people survive a cardiac arrest. If we achieved the same survival rates of countries like Norway (25%), where CPR is taught in schools, an additional 100 lives could be saved each week – the equivalent of approximately 5,000 every year.
Supported by the Yorkshire Ambulance Service Charity, the event is delivered and promoted in partnership with the Resuscitation Council (UK), British Heart Foundation (BHF), St John Ambulance and the British Red Cross.
..............................................................................................
Chance to influence councillors' pay and expenses
Applications are open for people to join an independent panel on councillors' pay and expenses. North Yorkshire County Council and Ryedale District Council are working together to recruit to their respective remuneration panels.  There are currently two vacancies at North Yorkshire County Council and one vacancy on Ryedale District Council's panel.
The panels make recommendations and provide advice to councils about their Members' Allowances Scheme, which sets the amounts elected members are paid to carry out their duties and the expenses they can claim. Barry Khan, Assistant Chief Executive, Legal and Democratic Services, North Yorkshire County Council said:  "This is a real opportunity for people who have an interest in local government and the work of councillors to help determine the pay and expenses councillors in North Yorkshire receive and be part of a friendly and professional panel."
The role involves approximately three meetings a year and a commitment to undertake some research and preparation ahead of these.    While some understanding of how local government works and approaches to how pay and reward structures are agreed may be beneficial, the emphasis is upon being able to represent the public interest and provide an objective and independent view.
Barry Khan said: "We are looking to recruit members of the public who are able to represent the public interest, provide an objective and independent view and to review councillors' duties, responsibilities and commitments to come up with a pay package that is proportionate and fair. "While this is an important commitment, it is also one that can fit in with a busy family and work life and with other personal commitments." Applicants must live or work in or on the border of the council area of the panel that they are interested in.
The closing date for applications is 5pm on Friday 23 October 2020. See full details of the role.
....................................................................................................................
A direct appeal to the public of North Yorkshire as cases surge
As COVID infection rates continue to rise across North Yorkshire, first responder agencies are making the strongest appeal to the county's communities to try and prevent more severe intervention measures. Richard Flinton, chair of the North Yorkshire Local Resilience forum, which includes the emergency services, councils and health, said the county was at a tipping point and it was the responsibility of each and every one of us to play our part and follow distancing guidelines so we can continue going about our lives and supporting the local economy.  The appeal comes on the back of surging infection rates in Craven, particularly South Craven and the Skipton area and also a rise in Richmondshire, where there has been an increase in positive tests linked to the Catterick area.    Scarborough and Selby remain on the Government watchlist as areas of concern.
NYLRF includes the emergency services, local authorities and the NHS and is responsible for leading the fight against the pandemic here to protect lives and the NHS, support the economy and keep schools and businesses open.  It is issuing this call as part of its strategy to act early to get on top of infection rates here to avoid the enforced interventions being seen in many other northern areas. As most infection can be linked to household and social contact Richard Flinton called on residents across the age range to pull together. He said: "Rather than wait for Government intervention and the imposition of more serious lockdown measures being faced by people in many parts of the north of England, we are appealing to people to take the necessary precautions now. "We must not risk everything we have achieved in North Yorkshire by letting our guard down. Social distancing and handwashing remain the best defences against COVID – with face coverings where required. We also urge everybody to keep to the rule of six, inside as well as out.   "We would also like to go a little further than that to protect our schools, businesses and freedoms here – we are not waiting for more areas to go onto a watch list to step up our response. We would ask that you wear a facemask or covering in any areas where social distancing is difficult – even when outside. "So, if you are in a narrow street or other busy areas please cover your face – be part of Team North Yorkshire and help keep our county open. Protect your friends and family and keep our High Streets and hospitality sector safe and open. "We will all need to work hard together if we are to avoid enforced national interventions, which may prevent us from being with our friends and family. "It can be done. Rates have come down in Selby and Scarborough which are on the watchlist as areas of concern.  That is a great achievement by communities in those districts. Thank you for all your efforts and sacrifice.  We have shown we can pull together to beat COVID." Paul Shevlin, Chief Executive of Craven District Council, said: "These figures are concerning and I would urge all residents and businesses to do their bit to slow the spread of the virus in the district.
"There are a number of new national measures which have been announced recently – the 'rule of six', earlier closing for pubs and restaurants, increased use of face coverings, and the NHS Covid-19 app. "Fines and enforcement are also increasing so please do take notice of all these regulations. We also need to stick to the simple, straightforward measures of social distancing and good hand hygiene. "The figures in Craven show there have been 95 new cases per 100,000 people in the last week. It is important to note that our population is small, and so any increase in cases may appear to be startling, and the percentage increase/decrease may be large from week to week. "However, we have seen in other areas of North Yorkshire that they have been able to reduce the number of new cases quickly. If we all work together in Craven we can stop the spread. None of us wants to see a full lockdown again – we all want to see schools and businesses stay open if at all possible."  Tony Clark, Chief Executive of Richmondshire District Council, said: "Richmondshire District Council has been alerted to the rising cases in Catterick Garrison and Colburn so it is vital that we all do as much as we can to make sure the district remains safe. "We must all take measures to minimise the spread of the virus – and we urge everyone to follow the national guidelines issued by public health.   The District Council's Environmental Health and Licensing Team is working closely with local businesses and we are asking everyone to work together as we try to avoid returning to the lockdown restrictions we lived through earlier this year."  The Director of Public Health for North Yorkshire Dr Lincoln Sargeant says vigilance around social distancing, the wearing of masks and hand hygiene could not be more critical.   He stated: "In light of the escalating community infection rates in these areas, and across the region and UK, and the very real threat to some of our residents who are prone to the most severe symptoms if they contract the virus, I am asking everyone to take responsibility. We are seeing infections rise in our care settings and we must all protect those most at risk from the more severe medical impacts of Covid-19. "We have already suspended care home visiting, which is incredibly hard to bear for care home residents and their families who have only just started to enjoy the freedom of being able to see each other again.  We would like to find ways of restoring visits in a COVID-safe way this month and we can all play a part in helping that to happen by getting the infection rate down again.
"So please, alongside the hands, face, space guidance - wear a face-covering in crowded places outdoors and avoid crowded areas where social distancing is difficult. Please encourage your friends and family to follow suit. As the virus is transmitting from person to person the fewer social contacts people have the better. By doing this we will help to restrict the progression of COVID  and help avoid wider measures which could impact on schools, jobs and local businesses. "If you have COVID symptoms you must isolate until you can take a test.  "To shops, pubs and restaurants I ask you to keep on top of your Covid-19 security, for example, with hand sanitiser provided at the entry to, and within, buildings; strict limitations on the numbers of people inside a building at any one time; and one-way systems – where they are not already in place. Ensure you are rigorous in collecting contacts from customers.  "Event organisers please re-think any indoor or outdoor events that involve more than 30 people; to care settings please continue to ensure that you limit agency staff usage and/or only use the same agency staff and stop any sharing of staff between care homes. We must all play our part now." A suite of support materials on events can be found here https://www.northyorks.gov.uk/guidance-events Steps are already in place to:
•             Direct local testing facilities towards areas of greatest need;
•             Step up support to care homes and other care services;
•             Re-introduce restrictions to visits to care homes
•             Pause the re-opening of social care day services;
•             Work with Safety Advisory Groups (SAGs) to develop guidance to ensure events are Covid-19 compliant and to advise on the cancellation of events in areas with high levels of infection to protect lives and livelihoods;
•             Work proactively with workplace and hospitality sectors to promote Covid-19 safety measures;
•             Support schools and businesses with positive cases to manage incidents and prevent or limit the size of outbreaks.
Many of these measures are being implemented countywide, with some being targeted to those areas that have the highest infection levels.
More information on testing and coronavirus is available here: https://www.nhs.uk/conditions/coronavirus-covid-19
www.northyorks.gov.uk/coronavirus
www.northyorks.gov.uk/testing
..............................................................................................
All eyes on rural areas as police keep up pressure on criminals -
Focusing on Hambleton, Richmondshire, northern parts of Craven and Ryedale, the A1 in Harrogate, and the A171 Moor Road corridor near Whitby, the operation aimed to ensure criminals could not prey on the county's rural communities undetected. From the evening of Wednesday 30 September 2020, into the early hours of this morning, 43 officers from North Yorkshire Police's Neighbourhood Policing Teams and Rural Taskforce joined 51 Rural Watch volunteers on patrol as part of Operation Checkpoint. Eighty-five per cent of North Yorkshire is classed as very rural or super-sparse, with a population density five times below the national average – highlighting the importance of information about suspicious activity from members of the public who know their local areas.
Operation Checkpoint aims to ensure these rural communities are 'no-go areas' for criminals. Overnight, officers in North Yorkshire checked more than 80 vehicles and carried out police checks on more than 20 people to ensure everything was in order. Those deterred by the operation included a group of suspected poachers in the Castleton area. North Yorkshire Police co-ordinated with colleagues in Cleveland, Durham, Cumbria, Lancashire and Northumbria to provide high-visibility crime-fighting coverage across the North of England. Sergeant Stuart Grainger, of North Yorkshire Police's Rural Taskforce, said: "All of us were policing the rural area, looking for cross-border thieves, fly-tippers, poachers, and drink drivers. We were supported by an excellent number of volunteer Rural Watch members, who worked into the early hours." Mobile Rural Watches operates across the North Yorkshire countryside, supporting the force's Neighbourhood Policing Teams and Rural Taskforce. Volunteers use their own vehicles and are equipped with police radios so they can communicate with officers.By drawing on the expert local knowledge of the volunteers, any suspicious activity or vehicles can be checked out in real time.
To find out more about Rural Watch schemes elsewhere in North Yorkshire, contact your local Neighbourhood Policing Team, or Rural Taskforce officer, by dialling 101.
......................................................................................................................
Harrogate Cannabis Find:  A 72-year-old Harrogate woman has been charged with three counts of being concerned in the production of cannabis and six other people have been charged in Hertfordshire following an incident in Harrogate on Saturday night. An eight-person was arrested in Harrogate on Monday. At around 8.30 pm on Saturday 26 September, police were called by a number of people to a disturbance in Alexandra Road in Harrogate. On arrival, officers found evidence of cannabis cultivation at a residential property. Enquiries led to further searches of two other properties in Harrogate, one in Somerset Road and one in Woodlands Road, where officers discovered two more cannabis grows in various stages of growth. A large number of suspected cannabis plants and items associated with cannabis production was recovered. The 72-year-old woman appeared at York Magistrates' Court on 28 September where she was released on bail and the case was sent to Crown Court.
Six other suspects travelling in two vehicles that left the scene of the original incident were intercepted by Hertfordshire Police and arrested. They were charged with possessing class b drugs with intent to supply and appeared in court where they were remanded in custody. An eighth person, a man in his 20s from Harrogate was arrested on 28 September in connection with the investigation and has since been released on bail while enquiries continue.
................................................................................................................................................
RIPON Grammar School has been ranked among the top five per cent of schools in the country for the progress students make in sixth form.
The rating, from the nationally recognised ALPS (A-level Performance System), places RGS among the very best state and independent schools and sixth form colleges. ALPS compares the outcomes of 3,000 schools over three years, measuring the value added to a student's A-level performance compared to what was expected of them based on the level they reached at GCSE. This latest analysis is based on the three-year period up to last year's A-level results. Headmaster Jonathan Webb said: "Staff work extremely hard to enable each student to flourish at RGS and the truest measure of our success is to be found in the value we add to students' predicted outcomes. "As well as outstanding achievements on results days, our students have accomplished way above what is expected, and to have made such exceptional progress following tremendous GCSE results is especially impressive." "I am delighted that both students and staff have had their outstanding work recognised by the ALPS system."
......................................................................................................................................................
North Yorkshire Police is appealing for witnesses and information about a theft of two Triumph motorcycles in Harrogate.
It happened at an address on Firs Drive between 10pm and midnight on 19 August 2020.
It is believed the motorcycles were taken and ridden away from the address and headed towards the Leeds area.
The motorcycles had the number plates AV52KWS and WX56EKY, but these are likely to have been changed since.
The picture attached is of the 56-plate bike. The other bike is described as having the front right fairing being damaged and has had a messy fiberglass weld running through it and has a rear left seat fairing cracked as well. We are requesting the public's assistance to help establish the full circumstances surrounding the incident. In particular, we are appealing for information about a Ford Focus seen in the area around the time and any sightings or adverts of the bikes for sale. The owner of the bikes is offering a substantial cash reward for information given to the police which results in the safe return of both bikes Anyone with information that could assist the investigation should contact North Yorkshire Police on 101, select option 2, and ask for James Skaith. You can also email James.Skaith@northyorkshire.pnn.police.uk. If you wish to remain anonymous, you can pass information to Crimestoppers on 0800 555 111. Please quote the North Yorkshire Police reference number 12200144624.
...................................................................................................................................................
Fraud victims who were witnesses in cases prosecuted by the multi-agency team Operation Gauntlet, hosted at North Yorkshire County Council Trading Standards, are receiving their money back following confiscation proceedings under the Proceeds of Crime Act. Thirteen individuals, families or small businesses are due to receive either the full amount of their losses or a significant proportion in the coming weeks. On 21 September 2020, Shaun Thomas Jr, 29, of Holmelea travellers' site, Elvington, York, was ordered to pay £20,238.83 by 21 October.  This money will be used to compensate in full ten victims who were defrauded in relation to tarmac works undertaken at their properties by Thomas and his family members in 2016.  Thomas, his father Shaun Thomas Sr, his brother Henry Hartley Thomas and Thomas Mounsey were convicted of conspiracy to defraud and money laundering in December 2018. They were sentenced to a combined total of 14 years' imprisonment. The North East Regional Economic Crime Unit undertook the financial investigation, in partnership with North Yorkshire Trading Standards. Confiscation proceedings are due to take place in relation to the remaining three defendants in July 2021. Today, a second case was heard at Teesside Crown Court in relation to the defendants George Henry Queen Flanigan, William Stewart and Shaun Doyle. They were made the subject of confiscation orders following their convictions for conspiracy to defraud in relation to roofing works conducted at the homes of elderly and vulnerable victims in 2016. They were sentenced to a combined total of ten years one month imprisonment in December 2018. At today's hearing, William Stewart was ordered to repay £30,000 within three months. This will be used to compensate the following victims: A 92-year-old man defrauded of £17,000. This victim has already received £9,000 back after trading standards worked with his bank to stop payment and refund the money to him. He will now receive a further £6,451.62. A man in his 70s who was defrauded of £18,500. He will receive £14,919.36 in compensation. The estate of a 73-year-old man who was defrauded of £10,700. This man sadly died before the trial. His estate will receive compensation of £8,629.02. Speaking after today's hearing, the man in his 70s who was a victim of Stewart, Doyle and Flanigan said: "I am absolutely indebted to North Yorkshire Trading Standards and I cannot thank them enough. Never in my life have I had reason to be more grateful to anyone." County Councillor Andrew Lee, Executive Member for Trading Standards, added: "This is a great result for the Operation Gauntlet team and shows the impact of the work they carry out. Not only have they successfully prosecuted these defendants, resulting in prison sentences, more importantly, they have now secured compensation for the victims of these frauds. In some cases, that includes the life savings of elderly and vulnerable victims. We are grateful to our partner agencies, including the North East Regional Economic Crime Unit, for their assistance in achieving these results."
...............................................................................................................................................
A man, 20 and a boy, 16, were seen acting suspiciously in the Library Gardens area of Harrogate and were stopped by officers from North Yorkshire Police's proactive Operation Expedite team.
Following searches a large quantity of suspected heroin and crack cocaine was seized and the pair were arrested on suspicion of possessing class A drugs with intent to supply. The 20-year-old has been released on police bail and the 16-year-old released while under investigation as enquiries continue. North Yorkshire Police's Expedite teams focus on those involved in drug dealing, particularly 'county lines' – dealers travelling from outside of North Yorkshire to pedal drugs in our towns, often exploiting vulnerable and young people and forcing them to sell their drugs for them. Tackling county lines drug dealing is a priority for North Yorkshire Police, and Expedite teams work proactively to prevent and detect drug dealing and associated offences. They also work to safeguard and protect those who are vulnerable and targeted by organised crime networks.
Your information is vital in helping us to do this. To find out more about how you can help and what to look out for, visit northyorkshire.police.uk/what-we-do/tackling-crime/county-lines-drug-dealing/. Anyone who has any information about drug dealing in their area is urged to contact North Yorkshire Police on 101. If you prefer not to speak to the police and remain anonymous, you can pass information to Crimestoppers on 0800 555 111 or online at www.crimestoppers-uk.org.
......................................................................................................................................................
UPDATE -
Two 14 year old boys who were arrested have now been Released Under Investigation pending further enquiries. A 15 year old girl, a 16 year old boy, a 33 year old woman and a 37 year old man all remain in police custody. We are not yet in a position to name the boy who has died. If anyone has any information about the incident, or if you saw a group of teenagers in the Fulford area of York in the early hours of Sunday 28 September, please get in touch with police. Dial 101, press 1 and pass information onto the Force Control Room, quoting reference number 12200169915.
.....................................................................................................................................................
Fantastic News "the treatment rooms" Beauty Salon 18A Mayfield Grove Harrogate HG1 5HB" have won the prestigious 5* Client Experience Award from Phorest Salon Software.
Not only have we won the yearly prize but as this is the 5th year in succession as winners we also have been awarded the 5 year Gold award Ronan Perceval CEO of Phorest Software presented the prize and commented "Congratulations! I am delighted to confirm that The Treatment Rooms has received a Phorest Client Experience Award for 2020! A covetable benchmark and prestigious award in the industry You can be so proud of this incredible achievement!  Not only have you managed to win this award during a testing and taxing year, but it is with great pleasure that I welcome you to the small group of salons that have won this award for an amazing 5 years in a row!"
............................................................................................................................................
A 15 year old boy from the New Earswick area of York has tragically died in hospital after taking illegal drugs. An investigation is underway and specialist officers are conducting searches and enquiries across the city, in order to establish the full circumstances surrounding the incident. Officers were alerted to the incident by the ambulance service at around 7.10 am today (Sunday 29 September 2020), after the boy was found by a member of the public in an alley off Hospital Fields Road in York, shortly before 4 am. It is believed the boy was with a group of others who were also taking illegal drugs. Six people between the ages of 14 and 37 have been arrested on suspicion of drugs supply offences. They remain in police custody at this time. Senior Investigating Officer, Detective Chief Inspector Jim Glass said: "This is an extremely tragic incident which has resulted in a teenage boy losing his life. "A team of specially trained officers are supporting the family at this time and I ask that their privacy is respected. "We will do everything we can to find out how the drugs ended up in the hands of these teenagers. However, we also need your help.
"If anyone knows someone who is dealing drugs, or is concerned about a person who is taking drugs, please come and speak to the police. We are here to help and to keep you safe and any information you can give us might just save a life." Anyone who saw a group of teenagers in the area in early hours of this morning is asked to contact North Yorkshire Police. Dial 101, press 1 and pass information onto the force control room. If anybody knows anyone who is taking or dealing drugs is also asked to contact North Yorkshire Police. Alternatively, Crimestoppers can be contacted anonymously on 0800 555 111.
..................................................................................................................................................
North Yorkshire Police operational support unit involved in at Wetherby Services yesterday It said the force had received reports that the occupants of two cars had been driving around the county, stealing expensive honey from health stores.
They searched the area, located and arrested three people on suspicion of theft. When searched, they recovered over £2,000 worth of honey and £100 of champagne. It thanked Harrogate Police who were there to assist and said the cars were seized.
................................................................................................................................................
A more efficient winter gritting service in North Yorkshire
Recent improvements in the ability of gritters to spread more accurately and the reduction in the average age of the fleet have led to a move towards lower minimum salt spread rates. The County Council's Business and Environmental Services Executive approved the proposals which could result in £120,000 savings this financial year. North Yorkshire remains committed to maintaining the level of its winter maintenance service which allows it to treat routinely a greater proportion of its network during wintry conditions than any other council in England.
David Bowe, Corporate Director of Business and Environmental Services (BES), said: "We are moving to a more efficient and cost-effective way of delivering our service based on a review of national research and improved technology. The last time our spread rates were fully reviewed was over 12 years ago and advances in technology mean we can still deliver a comprehensive service but in a more cost-effective manner. "We'll always ensure our salt spread rates are appropriate for weather conditions. With routine treatments during milder winters the saving could be around £120,000 for the coming winter season. We will be able to utilise any efficiency savings on other essential council services. "Any savings will depend on the weather conditions as no two winters are the same. We can spend between £6m and £10m delivering our winter service. Salt accounts for around a third of that cost. Please be assured that these changes will not compromise the safety of our roads."
County Councillor Don Mackenzie, Executive Member for Highways, added: "As the County Council invests in modern equipment like ploughs and gritters, so we can introduce fine adjustments to our methods, thereby making valuable savings for our taxpayers, whilst continuing to deliver one of the most comprehensive winter gritting services in the country."
.......................................................................................................................................................
A man has been arrested in a van full of suspected stolen building site machinery in Knaresborough.
At 8.20 pm yesterday, Thursday 24 September 2020, North Yorkshire Police officers on patrol near the town spotted a red Peugeot Boxer van in suspicious circumstances.
The van was brought to a stop near the roundabout of the A59 and A658, east of Knaresborough.
When officers opened it up, they found a generator, wacker plate, cutting saw and other plant machinery inside.
The driver and sole occupant of the van – a 41-year-old man from Durham – was arrested on suspicion of theft. He was released on bail this evening, with a condition not to enter North Yorkshire. Enquiries are ongoing to identify the rightful owner of the equipment found in the van. It is suspected to have been stolen from construction sites in the local area. A spokesperson for North Yorkshire Police said: "Building sites and compounds – particularly those in rural areas or isolated areas – are, by their nature, vulnerable and attractive targets for criminals.
"That's why it's important to take extra security measures. Wherever possible, keep vehicles, plant and power tools in a secure and well-lit area, preferably a garage or outbuilding. Consider CCTV, fuel cap alarms, cages and other security measures.
"Even simple techniques like 'defensive parking' – parking vehicles close to solid objects to prevent access – can have a strong deterrent effect. "Also, get your property security-marked. Permanent marking, like a 'dot peen' mark, may deter thieves, as it makes the equipment far harder to sell on. It will also be much easier for us to return it to its rightful owner if it is lost or stolen, and could provide vital evidence to secure a prosecution. "The equipment on building sites can be worth many thousands of pounds, which is why it's so important to keep it safe. We want the message to go out to would-be thieves that targeting sites in York and North Yorkshire is simply not worth the risk."
..............................................................................................................................................
Harrogate Community Radio
We have a new series starting on Sunday at 10am. To Etherea and Beyond promises to be a great run of shows. Simon Bleasdale will be playing across the genres; he hopes to share with you Shoegaze, Fuzz Rock and Atmospheric music - five minute guitar tremolo drones are right up my street and I think we have the schedule just right on this show as it will ease you out of your Saturday night of excess. It is for everyone who enjoys music with passion and especially for fans of The Parish News or Sound Of Wonder - all at the accessible time of 10am; 2nd + 4th Sunday of the month.
...............................................................................................................................
North Yorkshire leaders urge traders to play their part
North Yorkshire's hospitality, leisure and tourism industries and their customers are urged to pull out all the stops and continue to play their part by following the latest Covid-19 guidance and regulations to keep people safe and avoid more serious lockdown measures. With the Covid-infection rate continuing to rise rapidly across the county, the partnership fighting the impact of the virus here is calling on the sector and all those who use it to adopt the regulations fully and create Covid-safe environments in order to help to contain the virus. Leaders of the North Yorkshire Local Resilience Forum (NYLRF) acknowledge the huge amount of work cafes, restaurants, pubs, leisure centres, hairdressers and salons all over the county have undertaken during summer months to make their premises and businesses Covid secure and open up the economy.
But they are now urging the sector to make a further effort to follow the Government's new and more stringent regulations. NYLRF Chair, Richard Flinton, said: "We know these new regulations are yet another hill to climb, but if we are to have any chance of keeping the infection rate down and keeping our local economy going we all need to play our part and take on this responsibility.   "We wish to thank those traders who've done a great job in serving the community during the first lockdown and have adapted to be Covid-secure as lockdown has eased and changed. But with a resurgence of the pandemic we must all pull together. "We are doing everything it is possible for us to do to keep the county's residents, communities and businesses out of more serious lockdown measures and we are asking everyone to help, so the way we go about our daily lives will not be impacted further.
"All our partners have worked closely with residents and businesses during lockdown and I am confident we can pull together once more."
New regulations require hospitality traders such as bars and cafes and personal contact businesses such as hairdressers and nail bars, dress fitters and tailors to undertake the following:
display a QR code that can be scanned by customers or visitors who wish to use the NHS covid-19 app.
collect name and contact details of their customers or visitors, including the details of every member of a group unless all have used the QR code;
retain details for 21 days and, if necessary, share with NHS Test and Trace or local public health officials to enable them to contact people who may have been exposed to the virus;
refuse entry to premises if individuals refuse to provide their details;
hospitality venues must abide by the 10pm curfew
from September 28th people can be served food and drink only if they are, and remain seated, at their table;
hospitality businesses must ensure they do not take bookings from, or seat, groups of more than six people. They are also required to maintain an appropriate distance between tables and ensure different groups do not mingle;
although these requirements have been contained in government guidance for some time, businesses which do not comply may now be fined between £1,000 and £4,000, and could face prosecution or the closure of their venue for repeated failures;
people working in hospitality, personal contact businesses and leisure venues must now wear facemasks, as must customers when they are moving around a venue away from their table.
People visiting pubs, restaurants and cafes must abide by the rule of six regulation and follow the hands, face and space campaign  - continue  to wash their hands regularly or use hand sanitiser, use face masks where required and keep a two metre social distance from those not in their own household.
The NYLRF is also asking people in North Yorkshire to take the extra step of using facemasks outdoors when they are in crowded streets and places. Lincoln Sargeant, North Yorkshire's Director of Public Health said: "We have seen a step change in the number of Covid-19 cases across the county. At the end of July we were just seeing one or two.  In the last two weeks there have been 388 new cases and this figure is growing all the time.
"We do recognise how difficult trading conditions have been and remain and we want North Yorkshire to remain open for business and indeed the majority of our hospitality businesses have made great efforts to make their premises Covid secure. But now they must go further and we are urging them to take the new regulations on board so they have a chance of staying open and carrying on "To those visiting pubs and restaurants we say act responsibly, be careful, be kind and support your local business to stay open. Use the NHS covid-19 app or provide your contact details and follow the rule of six.
North Yorkshire County Council's trading standards officers will work in partnership with district council environmental health officers in offering support and guidance to businesses and in responding to complaints about premises that are breaking regulations. Wayne Palmer, Environmental Health Team Leader at Selby District Council said: "We appreciate that local businesses have a raft of brand new regulations to work with. We've seen local premises react extremely well to the challenges they've faced during covid-19 by adapting and changing the way they operate. It's a worrying time for businesses but we are offering support, detailed advice and guidance so they can operate safely.
"We're responding to complaints alleging that premises are in breach of the regulations and we are committed to ensuring the safety of members of the public by making sure our local hospitality businesses are working within the law." Tracy McLuckie, Environmental Services Manager at Craven District Council said: "We've been working closely with businesses in Craven throughout the pandemic and the vast majority have responded very well. I'm sure they will rise to the challenge of these new restrictions and we're here to help them through this.  "We have written to venues affected by the new regulations and we have offered to help if anyone is having difficulty displaying the new QR code.  "We'd also urge customers to be respectful of these new regulations and help our local businesses to stay open". Jonathan Bramley, Environment and Regulation Manager at Scarborough Borough Council said: "Hospitality businesses on the Yorkshire coast have worked very hard and adapted well to all the operational changes required of them in recent months.
"We would like to thank them for the efforts they have made to be Covid secure and to help keep their customers and staff safe during these uncertain times.
"While the extra measures required will bring additional pressure, we know we can count on businesses to do the right thing and adapt further to help prevent the spread of the virus in our borough. "Our environmental health and licensing officers are on hand to offer advice to any hospitality business unsure about the new regulations and how to apply them to their business. By working together, we can make a positive difference."
Paul Staines, Director of Environment at Hambleton District Council, said: "Hambleton District Council is working in partnership with the county council, police and other districts to support businesses and will use a range of enforcement tools to ensure there is compliance with the new rules and that public health is protected."
Robert Robinson, Environmental Health Manager at Ryedale District Council said: "Everyone in Ryedale has a part to play in protecting one another. Our businesses have been doing what they can during this pandemic to keep themselves and visitors safe. We urge businesses to take these new measures on board and to get in touch if they need any support.  "Customers and patrons must also adhere to the new requirements, to assist businesses to comply to the regulations. We all need to support our hardworking businesses by following the guidelines, staying safe and shopping local."
Callum McKeon, Corporate Director at Richmondshire District Council said: "Our Environmental Health team will be supporting the hospitality businesses to follow the new rules, and where breaches are found we will use a range of enforcement tools to ensure the public is protected."   Members of the public that have concerns about rules not being followed can contact the team on environment@richmondshire.gov.uk
North Yorkshire Police will support the hospitality trade and ensure that crowds do not gather outside premises and that customers observe the rule of six in outdoor spaces as they must do inside premises. Superintendent Mike Walker, gold commander for North Yorkshire Police's response to Covid19, and the chair of the North Yorkshire Strategic Coordination Group, said: "It's very clear that we are at a turning point now, where everyone's personal choices will have a significant effect upon the rate at which this virus spreads over the coming weeks. We've heard from both our national and local leaders and health officials that cases of Covid-19 are rising at an increasing rate and that the responsibility to turn the tide on this virus lies with each and every one of us.
"We know that message has reached the vast majority of the public who w